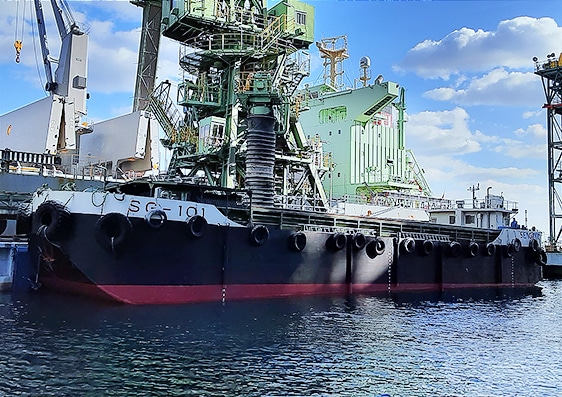 What are Coastal Service? Providing Safe and Prompt Coastal Services by Barges
Based at Mizushima Port and Hiroshima Port, we utilize coastal barges and flat top barges to provide harbor transportation/coastal transportation. A flat top barge is a flat-bottomed vessel designed to carry heavy cargo from ship to wharf, and from shore to the wharves of other harbors. Coastal barges carries feed, grain, and steel products, while flat top barges handle hull blocks and plants.
Barges do not have engines and cannot sail by itself, and are towed by tugboats instead.
Are you facing any of these issues regarding domestic cargo transport?
I don't know how to transport heavy, tall, or wide cargo that cannot be handled by trucks and trailers...
I don't know how to determine which barges we should use...
I want to reduce transport costs...
Seagate can provide a solution!

Three Strengths of Our Coastal Service Office

Our professionals in integrated sea and land transport will review your logistics issues and propose the best transport method to meet your needs.
Proposing the Best Maritime Transport Method for Your Cargo

We conducts detailed reviews of the item, shape, quantity, and transport conditions of the cargo. We consider the features of each vessel to ensure the best form of transport to meet the needs of our customers.

Transport Services with the Most Suitable Vessel for Your Needs

We uses barges to transport heavy and large-volume cargo. Barges are suitable for cargo that must not get wet in the rain (grain, steel, plants, etc.). Cargo of various shapes and sizes (hull blocks, steel materials, plants, etc.), from large to small, is carried by flat top barges.

Optimal Transport Services at Lower Cost than Coastal Vessels

Two barges can be towed at once, and it lowers the cost than coastal vessels. In addition, variety size of flat top barges are available depending on the shape of cargo. Barge is a very reasonable way for coastal transportation.
Which Harbors Do You Support?List of Bases
Mizushima Branch Coastal Service

Section

2F Port Building, 1-6-13 Minamise, Kurashiki-City, Okayama-Pref. Japan 712-8055

Google Map
Tel: 086-455-0152
Fax: 086-456-3625

Hiroshima Harbor Transportation Division
Kure Branch Harbor Transportation Section

4F Kure Hondori Building, 4-9-5 Hondori, Kure-City, Hiroshima-Pref. Japan 737-0045

Google Map
Tel: 0823-21-8250
Fax: 0823-25-3728