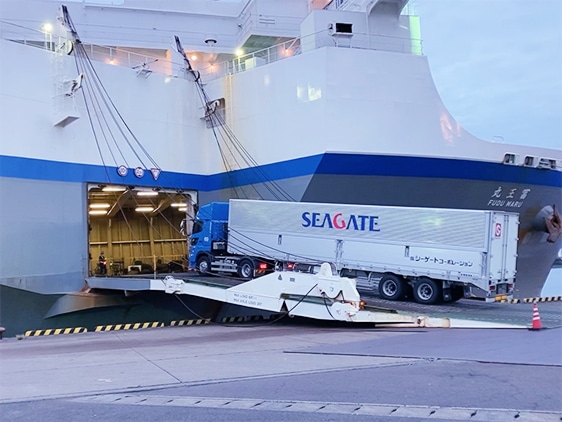 What are RORO Service? Maritime and Land Intermodal Transport Professionals
We promote a modal shift. We expand maritime and land intermodal transport that is kind to the global environment by reducing CO2(carbon dioxide) and NOx(nitrogen oxides) emissions compared to long-distance transport by trucks.

Are you facing any of these transport issues?
A shortage of drivers has made it difficult to arrange long-distance transport...
I want to reduce transport costs...
To reduce environmental impact, we want to reduce CO2 emissions...
Natural disasters make it difficult to arrange land transport...
I would like to consider a modal shift, but don't know how it works...
We can provide the best solution!

Four Strengths of a Modal Shift

Seagate Corporation's transport professionals will review your logistics issues and propose the best transport method to meet your needs.
Resolving Driver Shortages through Integrated Maritime and Land Transport

By switching to a modal shift to reduce land transportation distance, we can provide stable transport services that address the issues of driver shortages and overworked driving.

Reducing Logistics Costs through Mass Transport by Ship

Costs can be reduced by utilizing RORO ship, like a mass transport, as trunk line comparing to long haul transportation by truck.

Reducing CO2 Emissions through Maritime Transport

Maritime transport can reduce CO2 emissions by about 80% compared to transport by truck. Promoting a modal shift will help us achieve environmentally-friendly logistics.

Effective for BCP Measures

This alternative means of transport is an effective BCP measure, because it is less susceptible to natural disasters such as earthquakes and floods.
What Kinds of Solutions Have We Provided? Record of Support
Achieving a Modal Shift by Consolidating Cargo with Nearby Delivery Destinations
A shipper was sending cargo long distances by land to multiple destinations, each with a truck. We proposed combining small-lot cargo with nearby delivery destinations into a single trailer for delivery to multiple locations, allowing a reduction in transport costs and CO2 emissions.
What are Our Transport Routes? Route Guide
The typical routes for RORO vessels and ferries used by we are shown below. We use these routes to transport our customers' important cargo door-to-door throughout Japan.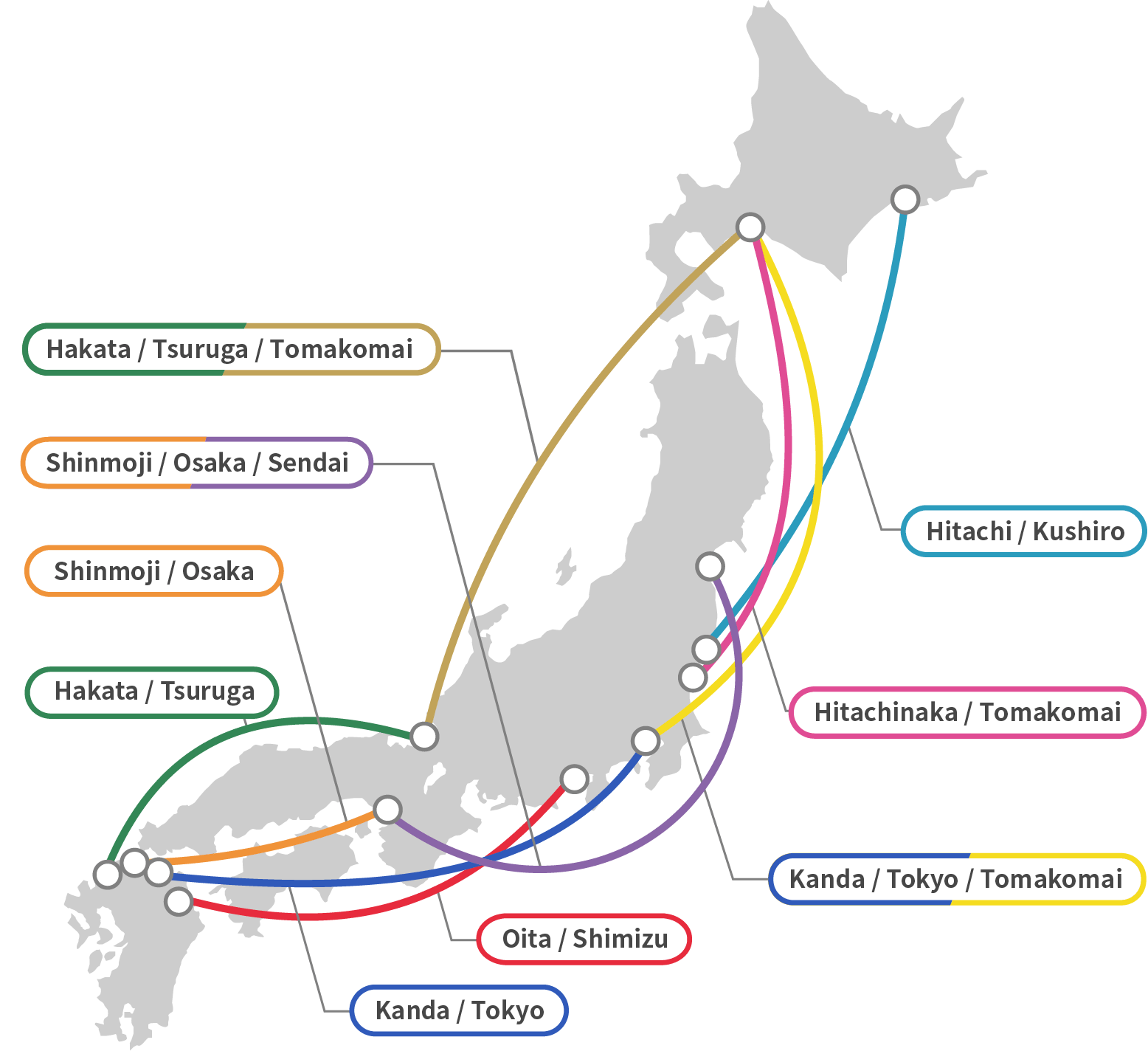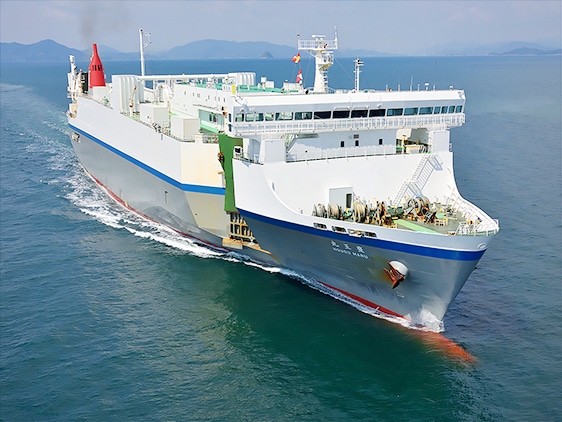 Oita/Shimizu Route
This route operated by Kawasaki Kinkai Kisen achieved that connects Oita and Shimizu in 20 hours and a lead time is comparable to land transport.
What Kinds of Vehicles are Available? Our Fleet of Vehicles
We have several protecting materials that are necessary to be free from damage on the cargoes also ensure safe and secure transportation.
Wing type semi-trailer

Internal dimensions of trailer: Length 12,600 mm x Width 2,380 mm x Height 2,320 mm
Maximum loading capacity: 20,400 kg to 21,100 kg

Flatbed type semi-trailer

Internal dimensions of trailer: Length 12,500 mm x Width 2,400 mm
Maximum loading capacity: 21,500 kg to 21,600 kg
Where are Our
Business

Offices?

Business

Offices