Strengths
Seagate's Advantages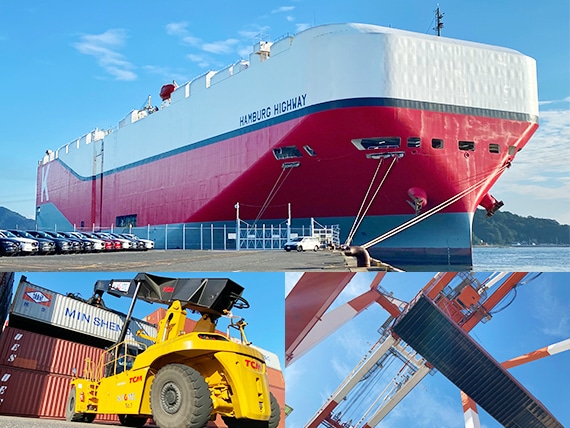 What is Seagate? Experts in Harbor Logistics that Connect Sea and Land
Seagate is a harbor logistics company that provides harbor transportation and international logistics services, connecting the sea and land. As an expert in harbor logistics, we utilize the network of the "K"LINE Group to provide integrated transport services primarily in the Seto Inland Sea region, including the ports of Hiroshima, Hakata, and Moji, as well as in northern Kyushu.
Issues in Harbor Logistics Are you facing any of these issues?
Seagate Corporation can provide the best solution.
I don't have a partner familiar with the local situation...
I want to simplify cargo forwarding process...
I am facing difficulties in arranging long haul trucking...
I want to reduce CO2 emissions, but don't know how...
Seagate can provide a solution!

As Expert in Harbor Logistics,We Provide a Solution

We handle a wide variety of operations in harbor logistics, including shipping agency, tugboat, stevedoring, import/export cargo customs clearance and storage, steel warehousing, coastal (barges), and roll-on/roll-off businesses.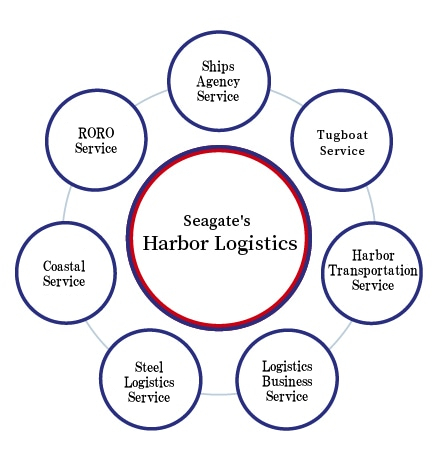 Our Strengths in Logistics Three Strengths for Solving the Challenges of Harbor Logistics
All Harbor Logistics Complete Within Seagate

With seven operation divisions, Seagate Corporation handles all aspects of harbor logistics services, from the port arrival and departure of vessels for marine transport of imports, exports, and domestic cargo, to the loading, unloading, and storage of cargo, and making arrangements for transport over land.

Providing the Best Logistics Service with Global Partners

Seagate Corporation provides optimal logistics services in cooperation with our partners, to ensures that your cargo is transported and safely at optimal prices.

Having Various Port Licenses, Providing Variety of Cargo Handling services

With our experienced operators who ensure the safety of your cargo, Seagate Corporation can handle any task in utilizing variety of heavy duty cargo handling equipment.
Trustworthiness Our Strengths
Work together among 7 operation divisions

Seagate Corporation provides an integrated services, such as port arrival and departure of vessels , cargo handling, customs clearance, storage, and transport over land.

Staff fluent in foreign languages

Seagate Corporation can communicate smoothly with local shippers and captains in both English and Chinese.

Staff as costoms brokers thoroughly familiar with customs laws

Seagate Corporation can provide tariff savings through the use of economic partnership agreements (EPA,FTA,TPP).

All-weather wharf can be used in any weather condition

Seagate Corporation owns an all-weather cargo handling wharf, which is unique in the Setouchi area. We can handle and store steel products then arrenge land transportation in any wheather conditions.

Reduction of CO2 emissions through modal shift

Seagate Corporation can reduce CO2 emissions by 80% by switching transport mode from truck transport to RORO vessels.