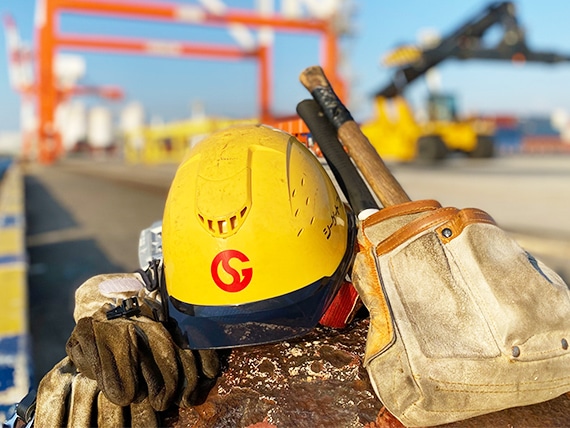 What is Harbor Transportation Service? Safety Cargo handling operation by Skilled Operators
These services are performed in the forefront of port logistics sites. We provide safe and secure services by making full use of technologies that have been passed down from generation to generation, new know-how, and skill of handling large cargo handling equipment. At Hiroshima Port, we carry out loading work for complete-built-up cars, construction machinery, vanning and devanning of containers for export/import, and terminal operation services at the Dejima Container Terminal. At Kure Port, we mainly unload imported wood chips and fertilizers from conventional vessels. The main activity at Nakanoseki Port is to load complete-built-up cars. In order to provide safety services for our customers, we strive to work more efficiently and also try to keep schedules without cargo damage and accidents.
What are Our Advantages?

Four Advantages of the Harbor Operations Department

We provide integrated cargo loading and unloading services on behalf of shippers and ship owners at Hiroshima Port, Kure Port, and Nakanoseki Port. We provide onboard cargo handling operations for cars, construction machinery, containers, and break bulk vessels, as well as container terminal operation and CFS services. With the advanced skill and wealth of knowledge that has been passed down over the years, every member of our technical staff working on site has a diverse range of skills for handling a wide variety of sites and cargo.
Loading Work for complete-built-up cars to be Exported

Complete built up cars to be exported are loaded onboard PCC. This work demands not only safety and quality, but also speed and efficiency, as more than 2,000 cars are sometimes loaded per day. The loading techniques that are used to maintain spacing of 30 cm (lengthwise) and 10 cm (widthwise) between cars is a true sign of craftsmanship. Lashing is performed with care to ensure that each car arrives safely for the customers who have purchased them and are waiting eagerly for their arrival.

Cargo Handling at
Dejima Container Terminal

We provides precise planning for efficient cargo handling operations, making full use of large cargo handling machinery such as gantry cranes, transfer cranes, and reach stackers. We work in cooperation with the container yard while giving first priority to the safety of our staff and the quality of the cargo at the site. We will continue to find ways to improve our services in order to meet the operation schedules of container vessels.

Devanning and Vanning Operations at Hiroshima Port New International CFS

We are in the process of devanning (taking out) cargo from imported containers and vanning (loading) cargo to be exported into containers. Handled cargo includes large machinery, flexible containers, pallets, etc. We utilize our accumulated experience and know-how to perform in the most suitable manner.

Handling Cargo on Conventional Vessels at Kure Port

The main activity is the unloading of bulk cargo from dedicated wood-chip carriers. The vessel's cranes are operated expertly to ensure safe and efficient operations. We handles a wide variety of cargo, including large machinery. Our skilled staff proposes a variety of cargo handling methods that meet the needs of our customers, to support local logistics.
>What Kinds of Vehicles are Available? Our Fleet of Vehicles
45-ton Reach Stacker (MR4531)

25-ton Forklift (FD250-7)

Forklifts (7-ton, 6-ton, 5-ton, 4-ton)

On-Site Tractor Heads (3 Units)
What Kinds of Technology Do We Have? Qualifications of Technical Staff (On-Site Workers)
Our skilled staff working on site are qualified and licensed to operate crane derricks, lifting equipment, forklifts, shovel loaders, and large vehicles, and to supervise slinging operations.
Where are You Based? List of Bases
Hiroshima Harbor Transportation Division
Hiroshima Port International Container Terminal Office
Kure Branch Harbor Transportation Section

4F Kure Hondori Building, 4-9-5 Hondori, Kure-City, Hiroshima-Pref. Japan 737-0045

Google Map
Tel: 0823-21-8250
Fax: 0823-25-3728

Hofu Branch Harbor Transportation Section

415-15 Oaza-Hamakata, Hofu-City, Yamaguchi-Pref. Japan 747-0833

Google Map
Tel: 0835-38-4954
Fax: 0835-24-4149